We will give the 34th regular concert on Sunday, October 4, 2015.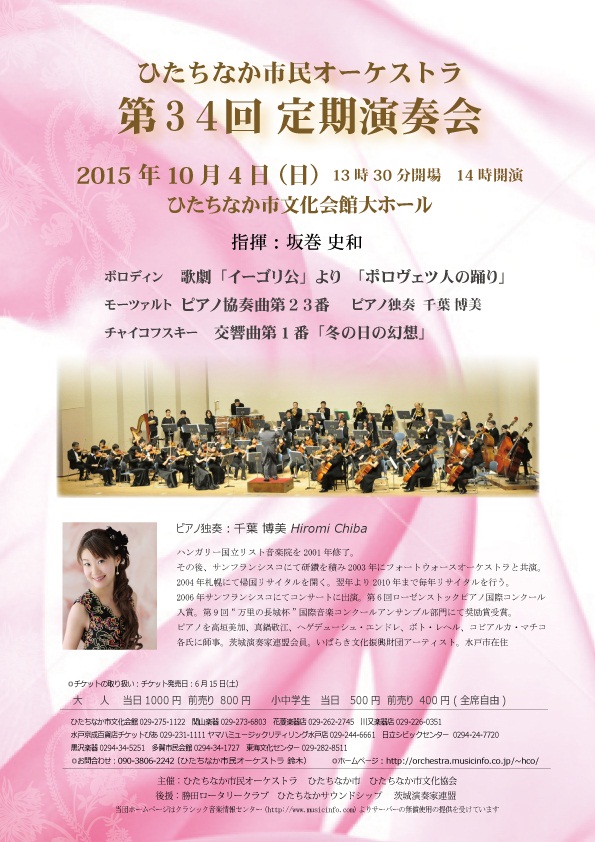 Open a door 13:30
Openig curtain 14:00
Hitachinaka Cultural Auditorium Main stage map

@Conductor: Fumikazu Sakamaki
@Pianist: Hiromi Chiba
@P.I.Tchikovsky Symphony No.1 "Winter Dream"
@A.P.Borodin Polovtsian dances from "Prince Igor"
@W.A.Mozart Piano Concert No.23 K.488


Enjoy playing with us!!
Welcome Violinist, Violist, Trumpeter and so on!
Let's enjoy good music with us.





@



Update practice plan of August 30, 2015. (Update: July 31, 2015)™

Update practice plan till August 30, 2015. (Update: July 19, 2015)™

Update practice plan till July 26, 2015. (Update: July 6, 2015)™

Update practice plan till July 26, 2015. (Update: June 16, 2015)™



Our orchestra was established in 1982 by enthusiastic Katsuta Rotary club members who have a great love of music livig around Hitachinaka, Ibaraki, Japan.
For the first 7 years of the orchestra's existence, the late Mr.Ryo Date was the resident conductor. Mr.Toshiki Akiyama succeeded Mr.Ryo Date till 2013. Most of our orchestra members live in Hitachinaka and surrounding cities, towns and villages.
Our members' occupations include company employees, national or local civil servants, school teachers, with many students, house wives, and retired people also. We have one regular concert and other smaller size concerts as required annually.
At most regular concerts we play concertos with young solo musicians who was born and raised in Hitachinaka or have links with the local area. Currently our orchestra numbers just more than 50 members and are always in need of extra players.

Mobile site ishere

Hitachinaka Citizens' Orchestra
Facebookƒy[ƒW'àé"`
© Hitachinaka citizens' orchestra all right reserved since 2003.